Hispellum is an event that reminds an important part of the history of Spello, when in the fourth century A.D., under the reign of Constantine, the city experienced a moment of prestige, becoming the federal capital.
At that time, the communities of Umbria, although administered by the Roman Empire, maintained a strong sense of attachment to their traditions, preserving cults and rituals characteristic of their people. In the "Rescript of Constantine" of 336 A.D. the great emperor appointed Spello, between all the villages of the Umbrian alloy, as the place dedicated to perpetrating these ancient ritual events; Rome gave the opportunity to the Umbrian to preserve so their original traditions. For this purpose, they were built: the sanctuary, still visible under Villa Fidelia, the amphitheater, the baths and the theater; Spello spent the period of greatest luster in its history.
The city called Splendidissima Colonia Julia under Augustus, and Flavia Costans under Constantine, in four days of Hispellum, relives the glorious Roman period with: shows, historical parades, markets with daily life scenes, battles and sieges simulations. You can participate in guided tours of the most fascinating sites of Spello: the archeological urban route and the extra-urban path that borders the fascinating Roman Aqueduct.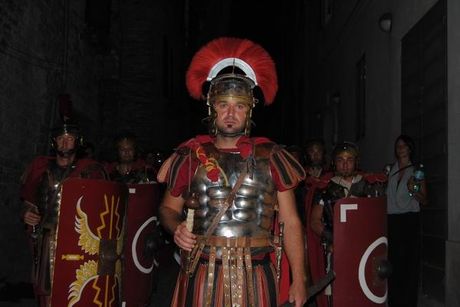 Along the streets of the old town, Hispellum back to the everyday life of craft shops, market, baths, taverns, temples and military camps. In the evening, the great events await visitors and tourists: banquets, shows and gladiatorial combats. Everything is judged by a commission that decrees who, between Gentes Iulia, the Flavia and Flaminia, has better reconstructed the atmosphere of the time and worth the emblem of victory.
In taverns, domus and popinae, built for the occasion, you can taste the dishes of ancient Rome and attend gastronomic events entirely inspired to cuisine of empire, in an atmosphere animated by lights, sounds and music.
Hispellum 2019 will take place August 23 to 25, Here is the program. If you need an accommodation for the period of the event, we recommend the farmhouses of Subasio.