Perugia, home of the Perugina, is a city with an ancient tradition of chocolate production and in October welcomes greedy and curious with the International Festival of Chocolate. In Perugia it was born the most famous sweet in the world, the Kiss (in the past used to be called punch) and from few decades it proposes Eurochocolate, a manifestation full of events, with a program that is renewed every year and is an excellence in this field, so that it was chosen as Official Content Provider in the Cocoa and Chocolate Cluster of Expo Milano 2015.
In the heart of Perugia during the event you can participate in: delicious tastings, cooking classes based on chocolate, beauty treatments, entertainment and fun moments interspersed with deepening and knowledge.
The Chocolate Show is the most delicious and assorted sweets emporium of Italy that winds through the downtown streets, with thousands of stands related to Italian and international artisan and industrial confectionery.
The appointment with Eurochocolate World will open, once again, a window on the world producing countries of cocoa pod, the fruit of the cacao tree; discover the art, culture and traditions of nations such as Cameroon, Cuba, Ivory Coast, Gabon, Ghana and São Tomé and Príncipe, through conferences, tastings, educational and entertainment activities for children.
During the sweet festival, the unfailing as delicious sweet sculptures will delight sight and palate of the visitors; expert sculptors transform huge blocks of chocolate in original works of art, throwing chocolate chips to interested spectators.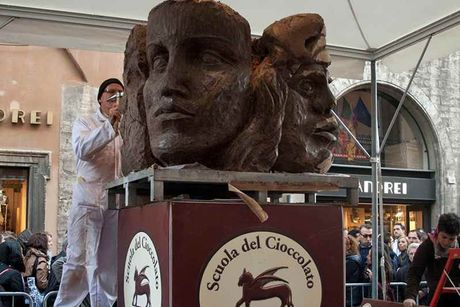 Eurochocolate is rich in events and social activities and through the web you can even become a testimonial of the Chocolate Festival.
Each edition is inspired by a different theme. In the past year the slogan was "An edition with live silver on him"; the new claim for 2019 is "Attacca Bottone!". In the chocolate festival, which last year celebrated its 25th edition, an iconic object of our daily life will be the protagonist: the button!
Eurochocolate 2019 will be held in Perugia October 18 to 27 and will be preceded on 12 October, by the Choco Day, usual day when we celebrate the discovery of America, an episode that made possible the arrival of cocoa in Europe.
Do not miss the event and combine it to the visit of the most beautiful cities of Umbria, the accommodation of Assisi and Subasio are waiting for you.